Today, I'm guest-posting over at
Simply, Ashley
. She's on a cruise.
(Let's just pretend to be happy for her, okay?)
Anyway, I love reading her honest posts about life, motherhood, and relationships. She's a sweetheart. Go check her out!
(Oh and ignore whatever crap she has to say about me "unfortunately" being a Steelers fan. She knows nothing.)
--------------------------------------------------------------------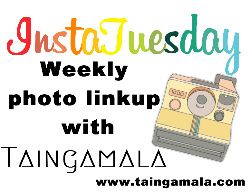 I'm pretty sporadic with posting on Instagram. Sometimes it's 5 times a day. Some days it's not at all.
Kinda like my candy corn habit.
If you're interested, my Instagram handle is @kedarhower.
It's been a couple weeks since I've linked up with the lovely Jane. Two weeks ago, I don't remember what I did. Last week, I was. in. a. mood. An "anything I say will just make people hate me" kinda mood, so I skipped Tuesday altogether.
Let's recap the important stuff.
This is my new giant mirror.
And that is my Sunday attire.
At the gym 2 weeks ago.
I believe it was the ONE #OctoberPhotoADay picture I took.
I didn't want to overcommit, you know.
That character flaw is why I don't belong to any clubs or organizations or have any friends.
Oh boy. This stuff is addictive. That's the big bottle. More economical.
It's been my "after-school/pre-chocolate" snack for a week or so now.
I've eaten 5 whole yams in the last 2 weeks this way. It's thinly sliced yams (yams are orange, sweet potatoes are white), olive oil spray, and a light sprinkle of garlic salt/parsley.
You microwave them for about 8 minutes.
Yes. That's it.
I was CPR-certified in high school. Since it's been more than 8 years (sigh), it had expired quite some time ago. With my (hopefully) future career in the world of fitness, it was time to renew it.
It was a very easy and informative class and for $12 (say what?!?!), so worth it. Even if I did have to get up at 6am on a Saturday for it.


And even if I could barely concentrate on the vital information I was being taught.
You see, it was a bunch of Alaska teachers at this class.
And that meant there were A LOT of Danskos
being worn.
I was so distracted by the colors flying around and the desperate need to want to take a picture (or 7), that I couldn't focus.
There were shiny black ones, burgundy snake-skin ones, and a pair of bedazzled ones right in front of me. Which another person called, "Oh, so cute!"
(They weren't cute.)