"It's the most wonderful time of the year..."
Oh, sorry.
I was just singing my back-to-school song.
Seriously.
There's many reasons to become a teacher. Of
course
I want to "help children grow and learn". But I also want to buy school supplies. Lots of them.
Growing up, my favorite part of every summer was back-to-school shopping. By the middle of July, I needed to know what day exactly we were going to Altoona or State College to shop, as that was the day I would be able to have my run of Staples.
I cannot, to this day, estimate how many colorful notebooks I've bought over the years. My
guess
? Around 200. Not including the four adorable ones I picked up at Target last week.
I saved my money all summer long. To buy school supplies.
Even into college, I always set aside an extra special afternoon in August to go to Wal-Mart and Staples. I would browse and buy. Even now, if I'm in Wal-Mart and I feel stressed out, I can take a stroll through the back-to-school aisle and it relaxes me. Plus, I always find something I need. Like a pencil box.
After working at a school supplies warehouse throughout college, you can imagine my excitement now that I actually get to order from the catalogs. I got the boxes o' stuff I ordered a few weeks ago.
It was like Christmas. In July.
Now, for an easy dinner you can do on any school night. Or, if you're like me and you just really,
really
need to use up those 7 peppers you bought at Costco.
Mexican Stuffed Peppers
serves 6
1 pound ground turkey
1 1/2 teaspoons cumin
1 t. onion powder
1 t. garlic powder
1 onion, finely diced
3 cloves garlic, grated
1/2 cup salsa
1 can black beans
1 cup frozen corn
3 bell peppers, halved with the seeds and ribs removed
shredded Mexican-blend cheese
In a large stockpot, boil some water. Put the pepper halves in for just a few minutes to par-boil them. This will make them a bit softer and easier to cut/eat after baking.
Put them into a 9x13 pan and set aside.
In a large skillet, begin to brown the turkey. Add the seasonings. Put in the onion and grated garlic after the turkey is nearly browned. Cover and let cook over low heat until the onion is soft.
Add the salsa, corn, and black beans. Stir together and heat through. Spoon approximately half a cup of the turkey mixture into each pepper. Top with a bit of shredded cheese.
Bake at 350 degrees for about 25 minutes. Then, broil for a few minutes to get the cheese golden and bubbly.
Shared at: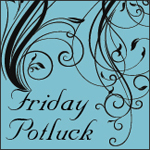 Friday Food
Simply Delish