I started writing this post last night and then the internet went out. This morning, I spent an hour on the phone with CenturyLink, killed a snake, and then the internet came back on for like 20 minutes. Then it went out again and I'm stuck here all day waiting for the repair person to show up. We'll see if they actually do.
I'm going to post this while I have a connection. Thoughts and prayers while I survive this first-world problem, please.
I'm kidding. I'm going to go back to my book after I hit publish.
This was my list of things I wanted to accomplish in June.
I'm a month by month person; setting goals for a whole season would be setting myself up for failure.
Halfway through the month, let's review...
1. Actually work on my ebook. This was a New Year's Resolution. It's time to get on that. I'm setting a timer for 20 minutes a day and I must work the entire 20 minutes and I'll keep going if I'm making progress. ---I've worked on it more days than not, so that's good. Progress is better than perfection.
2. Read 10 books in June. I did it one month last year. I can do it again. ---I'm at about 6 or 7 done.
3. I have a list of TV shows to chip away at. I already crossed one off by catching up on the end of this past season of
New Girl
yesterday.
----Nope. Of all the things to not be succeeding at, right? I've been watching True Blood because it's oddly comforting. Oh well.
4. Find some more furnishings and such for the house. I need a nice armchair and some odds and ends. -
--Hey, I got an armchair! My mom bought it for me (us) as an anniversary gift. I kind of want to get another one and am debating a run back to Homegoods this weekend.
If odds and ends means "new shoes", then I also got some odds and ends. Still working on this I guess.
5. Continue organizing the basement.
---Uhh no. But I did chip away at landscaping and cleaning up outside so that is a huge win.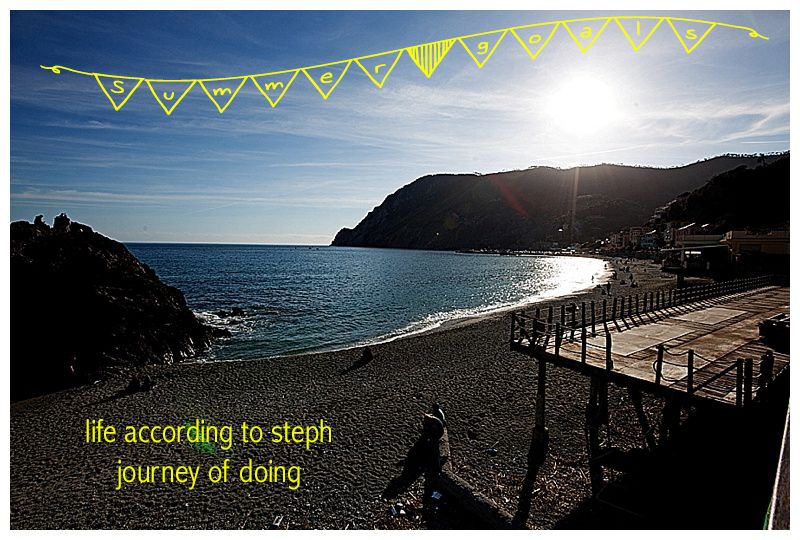 Linking up with
Steph
!