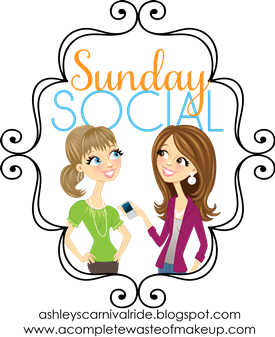 This week's Sunday Social was tough. It took me awhile to come up with this stuff. As in, I thought about it everyday this week at least a little bit. Clearly, I need a job.
What is your all-time favorite song?
I have a soft spot for the songs that were popular in 2008. That was a big year for me. Graduating college, meeting Scott, getting ready to get engaged, etc.
To me, music ties directly to memories. I have too many good memories to pick one favorite.
And clearly, I can't even answer a simple question.
What is your favorite singer/band?
I'm, by nature, a country music person. I talked about that here and here.
I also like Maroon 5 ("Payphone" had me in tears yesterday. Weird.), The Spill Canvas, and I listened to Taking Back Sunday all the way through college.
Scott introduced me to Brand New. He knew I was a Taking Back Sunday fan*, but was surprised I'd never heard of Brand New.
I listened to this song pretty obsessively for awhile. Scott played it for me on our first date.
This was my favorite song to run to (back in 2008 when I thought people could re-train themselves to run).
What is your theme song/song that best describes your life?
This may make me sound like a total lush: Blake Shelton's "Drink on It". If I think back, I spent a lot of great nights sitting in bar stools. Whether it was with friends in college, co-workers, or, eventually, Scott. Granted, I was often also behind the bar, but some of those nights were pretty great too. So while I think it's really difficult to pick a song to define the entire span of your life, this one fits pretty well for my early twenties.
Sorry, mom.
What is your favorite road-trip music?
I'd say country music. But I've also been known to listen to Brand New for 3 hours in the car. One time Scott asked me to turn it off. So who's to say?
What songs put you in a good mood?
Lately, it's been "Tell Me How You Like It" by Florida Georgia Line. It's the country boy thing.
What song are you embarrassed to admit that you love?
I love the "Cupid Shuffle". LOVE IT. Anytime, anywhere.
*Funny story about that: Scott went to a TBS concert that I had wanted to go to in college. I couldn't make it work because it was a school night and I was student-teaching and we had an evening class or something. His then-girlfriend stood him up and he was left with an extra ticket. Clearly she was indeed as retardly ridiculous as she sounds.
----------------------------------------------------------------------------------
Linking up to Kara's Sunday Funnies!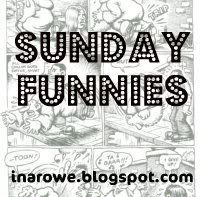 Few things freak me out as much as stuck rings
I saw this and thought, "Good Lord, cousins can marry in Alaska. Now it makes sense." Then I thought, "If Alaska was really where they have it on the map, I'd be a
much
happier individual."
Yes, Dwight. We do.
It's not so much that you're having a wedding. It's that you're having 7 showers and 4 bachelorette parties. Super duper.
And, the weekly KStew bashing...
I work really hard looking for inventive KStew stuff on
Pinterest
. It's, like, a summertime job.