I had actually forgotten how uncomfortable pantyhose are. Hadn't worn them in awhile. I've been spoiled by cotton leggings.
I felt like I was slowly being strangled all day long. Not good.
Please don't mind the dirty boots, or the stuff on the floor that was "un-crop-able". (Doesn't Scott realize that I can't be a serious blogger until he picks his chargers up off the floor? I could've scanned the background first, I suppose.)
Dress: Banana Republic Outlet // Scarf: Land's End // Tights: Fred Meyer
Boot socks: Gift // Boots: Steve Madden
I've been mixing patterns like ca-razy lately. I don't give it a second thought anymore, but I'm guessing others might think it's odd.
It was cold and wet and snowy (i.e. gross) outside. This is, in all honesty, why I bought the giant mirror. It makes the dining room look bigger too.
----------------------------------------------------------------
Oh, I'm the mystery host this week for Wednesday Walkabout! I love this link-up because it's so low-maintenance, I've made a lot of friends through it, and it's hosted by military wives. (Nice, friendly military wives, not high-maintenance ones).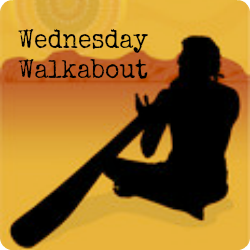 What is a Walkabout? It's a blog link-up party, every week here and with our co-hosts! Simply put your blog address or a specific post in the linky, visit some other people, and make some friends. Easy at that! I can't wait to talk to everyone!
PS: You only have to link up with ONE of the co-hosts!
The Rules:
1. Please follow at least ONE hostess, and let us know you're a new follower and how to follow you!
To be entered as next week's Mystery Host, follow all hosts from this week.
Mystery Host Kristin- Kristin's kNook
2. Try to visit 3-4 blogs that interest you. Take some time and let them know where you came from.
3. Grab the button and spread the word! (Not required, but just cool if you do). The more, the merrier.