Today, I've got Becky sharing a classic cookie recipe.
There are few things I enjoy more than a good dozen or so chocolate chip cookies.
I met Becky a few years ago when I was a substitute teacher and I am so glad I got to work with teachers like her. I really believe that I became the teacher I am today because of those I spent time working with/for in Pennsylvania. I miss that place. *tear*
Now. Go make some cookies.
Hi! My name is Becky, and I blog as
Rebeckann.
I'm from Pennsylvania, and live very close to Kristin's hometown. I teach first grade at her alma mater, and I've actually had the privilege of meeting Kristin in person. The unfortunate fact about this is that I didn't get to know her very well at the time! I'm so glad that blogging has allowed me to learn more about her, AND that she's allowing me to write a guest post for her!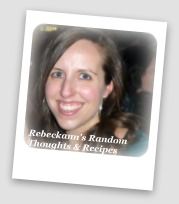 This is me with my husband, Scott, at Medieval Times in Dallas, Texas. We went there over the summer to visit friends. Kristin and I happen to have a lot in common, as you can see! We're from the same area, our husbands have the same name, and we apparently both enjoy food—especially desserts, blogging, and sarcasm. (And we both chose the same thrilling profession -Kristin:)
Since sharing recipes is something we both do on our blogs, I decided that's what I'd write for you today. I'm definitely not as creative as Kristin. She brilliantly comes up with her own recipes! My approach to blogging about cooking is sharing my experiences with the things I try. They come from a variety of sources. This one comes directly from the back of a package of chocolate and peanut butter chips…just in time for the Holidays!
Original Nestlé Toll House Peanut Butter & Milk Chocolate Morsel Cookies
(Could that title be any longer….?)
-2 1/4 cups all-purpose flour
-1 cup (2 sticks) butter, softened (We had just started getting dairy products delivered from a local farm. I used real sticks of butter in these instead of my usual Country Crock.)
-3/4 cup granulated sugar
-3/4 cup packed brown sugar
-1 bag peanut butter & milk chocolate chips
-1 cup chopped nuts (optional- I didn't have any nuts & didn't want to go to the store.)
2. Combine flour, baking soda, and salt in a small bowl.
3. Beat butter, sugars, and vanilla extract in a large mixer bowl until creamy.
4. Add eggs one at a time, beating well after each one is added.
5. Gradually beat in flour mixture.
7. Drop by rounded teaspoonfuls onto ungreased baking sheets.
8. Bake for 9-11 minutes or until golden brown.
You can view the original post (with step-by-step pictures)
here
.
Thanks for reading my post today, and thanks again, Kristin, for letting me guest post for you!
J